I think that is not something strange that the mods evolved into the skins. I mean, the depression of the country and the change of the style, perfectly normal in any fashion style; provided the perfect emergence for the rude boys (maybe the parents of the skins culture). The clothes change, the attitude changes... but, what about the girls?
They changed their style too, but without refusing to the cute skirts and feminine shapes (although sometimes you can see the rude girls wearing the typical jeans with a shirt and suspenders). I think that the above picture is one of the best examples I could fin, because you can see a mod girl and what could have been a rude girl, both with an awesome style (in my opinion).
Fred Perry campaing
Two mod girls having fun
An actual skin girl
But please, make no mistake with what I'm saying; I'm not talking about politics or ideologies, I'm just speaking in the change of a style during the sixties...
Anna Karina
A skinhead's party?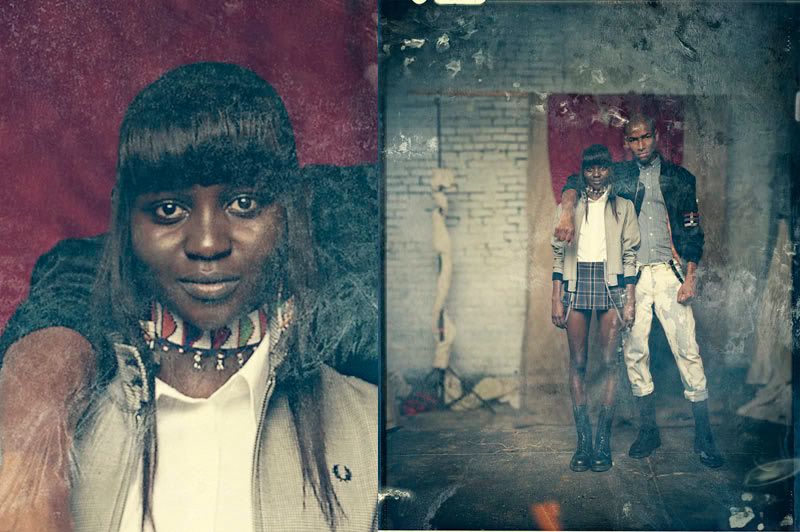 Who said that skins were only white people?
The rude boys and girls started to use clothes made of a very good quality, so they could last a long time. I guess that's why the rude girls left the nice dresses and started to wear the tipycal clothes that nowadays everybody knows as skin's clothes.
But I really love the step between both styles... I find it really awesome!
By the way, thanks for your lovely comments on my last entry, they mean a lot for me! And thanks again for your advises for the cold weather in Berlin; we're staying finally in a lovely hostel... I can't wait for going there on friday!